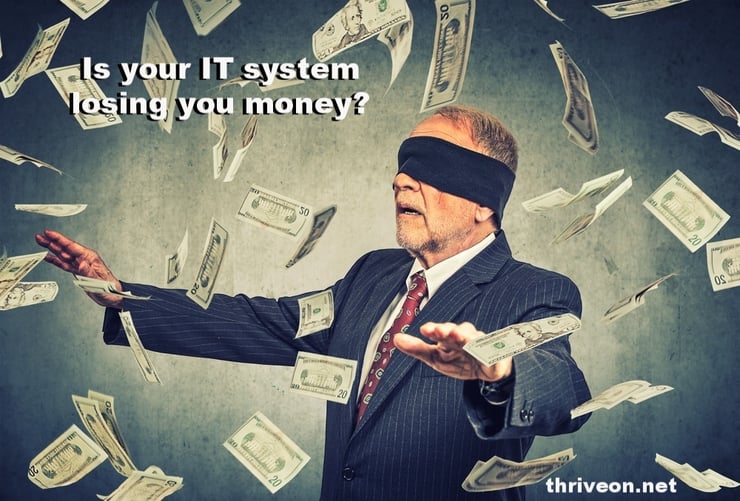 Regardless of which industry your business falls under, establishing a strong and secure IT system plays a pivotal role in the success and profitability of your organization. It's imperative to ensure that this IT framework doesn't drag your business down by generating unstable expenses or allowing IT downtime to affect employee productivity.
Unfortunately, as the field of Information Technology continues to ramp up in complexity, more and more businesses struggle to keep pace, draining thousands of dollars and employee hours into inefficient processes that don't meet their needs. This issue is even more prevalent in companies that rely on internal IT teams without the tools or expertise to optimize Information Technology systems. Ultimately, these flawed IT teams lead to massive decreases in business earnings and crippling slowdowns that stunt company innovation and growth.
When utilized effectively, your IT system can transform from a necessary and costly expense into a business function that helps you meet your goals by enhancing employee satisfaction and productivity, decreasing the total cost required to meet customer needs and increasing the value that your organization can offer to customers.
Here at Thriveon, we're passionate about connecting companies all across Minnesota with the knowledge and support they need to design and implement hassle-free IT that provides unrivaled ROI and drives towards business objectives. Today, we'll be helping you to determine whether your current IT system is losing you money and suggesting a few cost-effective solutions you can use to improve and stabilize your company's IT costs and efficacy.
The Effects of IT Downtime
IT downtime can have a substantial impact on employee productivity and company success. Not only do these technology failures put your team in the difficult position of trying to assist customers without the ability to access business network data, but they can also put massive financial strain on your organization. It's no secret that the costs of getting a malfunctioning IT system back up and running can be substantial and unpredictable. In more severe cases, these sudden IT failures can cause significant delays in service delivery that cause invaluable customers to become frustrated and lose confidence in your company, compelling them to cut ties and reach out to one of your competitors in hopes of acquiring a more dependable partner.
Consequently, in order to maintain your current customer base and protect the reputation of your brand, it's essential to invest in a high-quality IT system that mitigates the impact and prevalence of IT downtime. Your company simply can't afford to bleed productive work hours and miss out on business opportunities thanks to a poorly designed IT framework.
One of the most effective ways to cut down on IT downtime is to invest in high-quality managed IT services. Partnering with Thriveon will allow you to establish a totally outsourced IT department or better support your current internal team for a fixed monthly fee. Our team of IT professionals has the expertise and cutting-edge software needed to optimize and protect your IT network from external threats and malfunctions. Most importantly, we proactively plan refreshes to prevent potential disruptions and network shutdowns, maximizing productivity and customer satisfaction by ensuring that your business continues to run smoothly at all times.
Utilizing Executives for IT Tasks and Responsibilities
In many cases, inefficient IT systems require company executives to take time away from leading the business in order to manage its technology needs. Of course, simply ignoring your company's IT requirements altogether isn't an option. Putting technology problems on the back burner will only exacerbate the issue further, which is why many executives reluctantly take on these tasks despite the fact that their time could be better spent elsewhere. This misallocation of company resources weakens your business's capacity to seek new opportunities and thrive because its primary sources of leadership and innovation are wasting their potential on putting out technology fires and trying to stabilize IT costs instead of spearheading business initiatives and boosting your bottom line.
There are a number of strategies that executives can use to regain business focus, but some are more effective than others. For example, many companies choose to establish internal IT departments to manage their ever-present Information Technology needs. On paper, this tactic is an excellent choice. Having a dedicated team of employees that possess a detailed understanding of your business's IT needs, processes and custom software certainly has appeal.
Regrettably, internal IT teams aren't always reliable, particularly if they're only comprised of a few members. Relying solely on a handful of internal IT employees can put your business in difficult situations where a single unexpected absence results in the inability to provide sufficient Information Technology support for your organization, resulting in decreased productivity and profitability. Fortunately, by combining internal IT staff with outsourced services, you can effectively provide 24/7 access to outstanding IT support for your employees and utilize industry-leading tools that improve IT processes and prevent potential issues from slipping through the cracks.
Partner With Thriveon Today for Unrivaled IT Solutions
Put simply, if your current IT system is taking up too much of your valuable time or subjecting your company to substantial costs and IT downtime, then it's time to make a change. Here at Thriveon, our goal is to take IT management off of your plate entirely, allowing you to devote your time and energy to pursuits and initiatives that provide the most value to your business. We can provide your organization with a fully outsourced IT department or improve the effectiveness of your current internal IT team through exceptional Information Technology leadership and software. In either case,