If there's one thing that stands out about modern technology practices, it's the craving for instant connection. And though your employees may use Facebook, Twitter and a myriad of other social networks for connecting with others personally, adopting this kind of platform for constructive use creates connection and collaboration professionally.
Gartner reports that 52%* of IT Leaders expect an increase in work from home in 2021 which tells us that remote work has been solidified as the norm. With remote and hybrid work being consistently on the rise, it's vital to have a productive work environment while employees are working from various locations and devices.
We're used to it by now
Instant messaging is no longer a novelty, it's a requirement to keep your company functioning. If you don't have an instant messaging platform, you run the risk of having disconnected information, disconnected teams and you lose both time and money. Chat is a primary and valuable function of Microsoft Teams, but there is so much more to the application. To start, let's dig into the how and why of using Teams, Channels and Chats effectively in Microsoft Teams.
Read: Managed IT Services: What does good IT support look like?
What makes a Team in Microsoft Teams?
In Microsoft Teams, you have the ability to create different groupings called Teams for specific departments, projects, or taskforces. Creating Teams allows the right people to collaborate on the right tasks. Within Teams is also where you can create new meetings for that specific team.
To create a new Team, click on Teams then Join or Create a Team. From there, you can use a template or create one from scratch. Every Team may have channels associated with it to separate different projects as a way to group certain aspects of the Team.

Using Channels in Microsoft Teams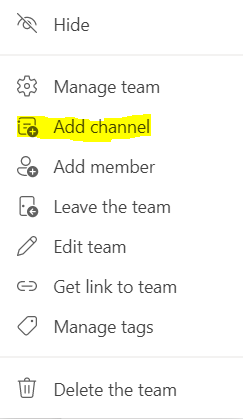 Channels are the different groupings of projects or similar items for a dedicated purpose within a team. Only the members of that team can work in those channels or channels can be set to private. To add a channel: within the team, go to more options <…> and add channel. By default, anyone in the team may create a channel. Channels are where the real work happens. Every chat, file and meeting is stored within a specific channel.
Using Chat in Microsoft Teams
Chatting is the most effective way to get quick responses on an open item you may need from another department or colleague. There are one-on-one chats and group chats, and you start them the same way. In the taskbar under chat, you'll hit Ctrl+N or New Chat. From there you can enter the name, email, group or tag. For a group chat, you can type in the individual names. With both remote and in-office work, chat avoids physical interruptions and allows your colleagues to respond even if within a meeting. Statuses help to showcase whether you are available, busy or in a call or meeting. The Do Not Disturb feature is helpful when presenting or doing an important task that cannot be interrupted.

One small hint you may not know about: as long as both parties have external chats on, you can chat with connections outside of your team. This is useful for clients, vendors and other external colleagues.
Is your workplace modern?
If you're not using chat today, you're likely not as efficient as you could be. Microsoft Teams is useful for organizing your work and collaboration through Teams, Channels and Chats and it's available for use from anywhere you are, on any device. Let us help get you to a Modern Workplace with Microsoft Teams.