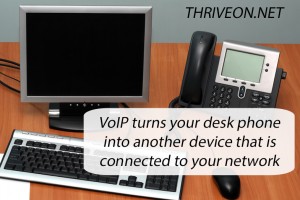 VoIP for more functionality, flexibility and reduced costs
More and more businesses are implementing Voice over Internet Protocol or VoIP technology because of its versatility, flexibility and cost effectiveness. With new developments in this technology, the scope of its applications is widening and the desire for the increased functionality that is possible is drawing businesses to update their communications.
Versatility and Efficiency
The benefits of VoIP offer the possibility to bundle all of your communication applications into a single unified platform. With VoIP, your telephone essentially becomes another device that is connected to the internet and can be connected to other modes of communication such as voice, fax, video, web conferencing and email. Voice to email, desk and mobile phone integration and video conferencing can all be included in a VoIP plan which not improves communications but makes it easier for your mobile staff to stay connected when they are on the road.
Reduced Cost per Call
VoIP can lower communications costs and significantly affect your bottom line. When your calls utilize your internet connection, long distance and other fixed phone charges are eliminated. If your business has multiple locations, calls between offices can go through your internal network. You don't need separate networks for data and voice communications. Everything can be done using the data network.
Operations and Infrastructure Reduced Costs
Specially designed phones with VoIP technology can be managed right from your desktops. There are a few things at work here. First of all, you have the potential to be eliminating traditional phone lines, usually a significant monthly fixed cost, in addition to the per minute usage costs. Using VoIP allows you to run your phone extensions right from your computers.
Get started with VoIP
VoIP technology offers many ways for Mankato businesses to cut costs and create efficiencies by unifying all modes of communication onto a single platform. The most prevalent reason why companies move to VoIP is because they want to improve the way that they communicate both externally and internally.
Contact us at info@thriveon.net or 855-767-2571 to explore how your business can improve your communication and reduce costs with VoIP phone systems.