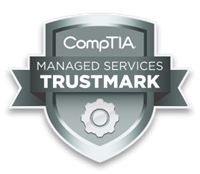 From time to time, we announce CompTIA certifications that our staff have earned, and we display a graphic that signifies a credential that we carry - the Managed Services Trustmark. These credentials set us apart from other IT companies in Minneapolis and the greater Minnesota area.
The name CompTIA might not be familiar to you. CompTIA or the Computing Technology Industry Association – is a professional organization in the Information and Technology industry. Like other trade organizations, CompTIA serves its members by providing ongoing research and education, advocating for our industry in the political arena, and facilitating events and communities where professionals n IT companies and can learn from one another. CompTIA also leads philanthropy efforts in the area of IT training.
The certification programs that CompTIA offer stand out because of their comprehensive nature and because they are vendor neutral. That means that they aren't focused on any one product or manufacturer. Earning a certificate is the result of a rigorous exam process that tests and validates the skills that are required for various professional IT roles from help desk to network specialist.
The CompTIA Trustmark that you see on our website is an indicator of our adherence to industry best practices and tools, as well as sound business management. This credential indicates our commitment to continuous improvement in operations, and to providing clients with the deliverables and experience that they expect.
We do many things every day to support the continuing education of our staff and improve our company. Being a part of the CompTIA community is an important part of that big picture.
If you are evaluating managed IT service providers in Minneapolis or outstate Minnesota, be sure to look for the certifications for IT companies like the CompTIA trustmark, that indicate adherence to best practices.
Thriveon provides a IT department service and business level IT guidance that helps companies leverage IT for business transformation. To explore whether what we do might be a fit for your company, please request a meeting.