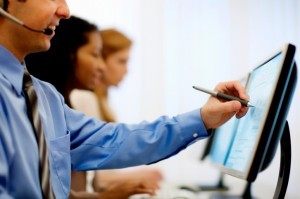 SLEEPY EYE, MN- June 8, 2012- Connecting Point Technologies Inc., a consulting and managed IT service firm that focuses on helping organizations grow their business, announced today that it has rebranded itself as Thriveon, effective immediately. As part of the rebranding, the company have launched a new identity and a redesigned website: www.thriveon.net.
The new site prominently features the company's business focus on IT support and managed IT services under the slogan "Time to grow your business." The company's ownership and staff have not changed.
Sam Bloedow, CEO, commented, "Changing our name to Thriveon formalizes a shift in corporate strategy that has been underway for several years. As part of our heavy focus on effectuating business change for our clients, our leadership team believed it was the appropriate time to rebrand our company to more specifically reflect what we do. This comes at a time when we have begun expanding our important Managed, Business Continuity, Strategic IT Planning and Cloud services.
We are very excited about the introduction of our new company name. We believe the name Thriveon allows us to better represent our business as the go-to IT resource for growth oriented organizations that are looking to increase efficiency and profitability."
Since 2002, Connecting Point Technologies has partnered with clients' businesses to make them more successful through efficiency, and alignment of their resources with their businesses goals and objectives, so that they can generate more revenue per employee. Bloedow continued, "As entrepreneurs and executives of growing organizations we have several challenges before us. Each day and week bring to light new barriers we must overcome to grow. We aim to help companies approach and overcome these barriers that shape and define their success in the years to come."
For more information about the name change, or to learn more about Thriveon, please visit: www.thriveon.net
Sam Bloedow, CEO, Thriveon
Direct: 218.313.4108
sam.bloedow@thriveon.net