Collaborate from anywhere
In this day and age, accessibility is paramount to communication and maintaining effectiveness in business operations while employees are working from various locations. Remote and hybrid work is only continuing to rise, and with it comes the"on-the-go" employee. Mobile collaboration is a necessity to any modern workplace where in some cases you have full-time remote employees, and in others partially remote with some in-office hours and everything in between.
Of course, travelling for business has always been, but moreso now that employees are scattered physically, mobile collaboration is necessary. High productivity and mobile collaboration is achievable through Microsoft Teams.
Any device, any time
As workers move, they switch from device-to-device. They may begin their day checking their email and Teams messages on their phone, move to their computer to respond to a message and begin reviewing their daily task list. They may want to grab a coffee on the way into the office, and they've been waiting to hear back from a client or colleague, so they check their phone while waiting in line. The value of Microsoft Teams is that the functionality remains largely the same from device-to-device, so work days are uninterrupted even though physical locations may vary.
Using Calendar for Mobile Collaboration Microsoft Teams
When it comes to your meeting virtually, Microsoft Teams leverages calendar items from your Outlook account so you can access them directly in Teams. You can also create new Teams meetings using your calendar right within Teams. If there is an urgent need, you can choose "Meet Now" to meet with someone, or you can schedule the meeting in advance. Any meeting set in either place will sync up in both Outlook and Teams.
Read more: Using Microsoft Teams as an Online Meeting Platform
Using Statuses for Mobile Collaboration in Microsoft Teams
Using information from your calendar, Microsoft Teams intuitively updates your status to "on a call" or "in a meeting." It will also inform your contacts if you are presenting and will put you in Do Not Disturb mode. This helps others to understand if you're available to chat or collaborate or if they should try another time.
You can actively change your status to any of the following and set a duration: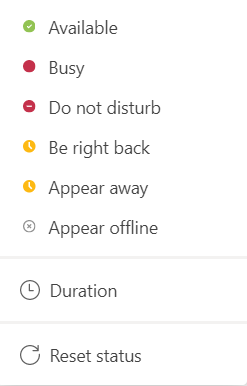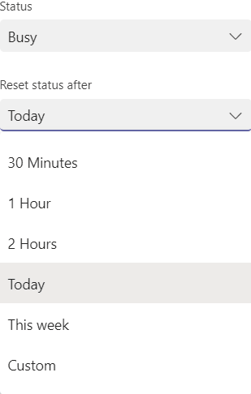 When in Do Not Disturb mode, by default Microsoft Teams will not send notifications if activity comes in. However, you may decide that for certain people you will want a notification to come through. To update this, go to settings then Privacy and click the button that says Manage priority access to assign any contacts.

Along with the status, a Status Message can be useful to add a brief note about what you're up to and when you'll be back. You can choose to show the message when contacts attempt to chat. You can also use it as an out of office message or to schedule an out of office notification for your email too.
Using Chat for Mobile Collaboration in Microsoft Teams
Another quick way to interact on tasks and projects is through Chat. This is one of the main reasons organizations implement Microsoft Teams. There are group and individual chats where even once a chat is started you may add or remove people to them depending on how the conversation shifts. The formatting on chats is robust with the ability to add a header, any color, size and font, bullet points, highlight color as well as the usual bold, italics, underline and strikethrough capabilities.
Set Delivery Options
With your message you may choose to add a notice to the recipients depending on if the message is standard, urgent or important. This is a helpful feature to showcase the level of urgency. You may also keep a record of your messages by
Screen Sharing
Collaboration is also possible through screen sharing which many employees have grown accustomed to now that many are out of the office more regularly. While on a call, a meeting or a chat, participants can click the share screen button and choose to show a specific window, screen or their desktop.

Language Translation
Finally, you or your organization may work with others who have a different first language than you. The language translation feature in chat can help to communicate when a participant communicates in their first language then you may easily translate to read in yours. This wonderful communication tool expands accessibility to collaborate across the world.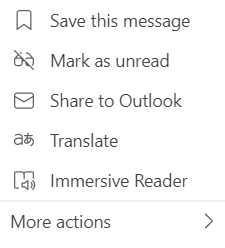 Read more: Using Channels and Chats in Microsoft Teams
Using Files for Mobile Collaboration in Microsoft Teams
With every channel, comes its own Sharepoint folder where files that are shared through Teams are stored. This becomes particularly useful when your team is collaborating in a Teams chat or meeting and needs to access documents and files quickly. Add graphics, documents, PPT presentations, etc... for easy access for all on your team.
Collaboration has never been easier
With the implementation of Microsoft Teams, your team will be able to virtually share anything they could in person, including whether they are busy, away or in a meeting. They can create meetings, chats and channels. Channels will create a Sharepoint site where they can store files. Because it is a downloadable application with your Microsoft login, Microsoft Teams can be accessed from any device, from anywhere with an internet connection. It's never been easier to connect and collaborate than it is with Microsoft Teams. Let us help get you to a Modern Workplace with Microsoft Teams.