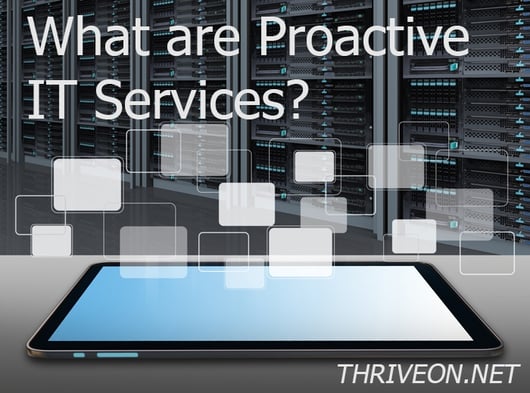 The Answer Should Point to Your Company's Future
When you hear the term "proactive IT services" as you are in the process of choosing an IT managed service company, ask questions to determine if the provider is referring to the results that you will see from their work, or if they are simply talking about how they do their work. There is a difference. The way that your question is answered will help you to choose the right provider that empowers your people with IT.
Proactive IT with Technology Tools
There is no argument that managed IT service companies routinely use technology tools to take care of issues before they can become big problems. This would include proactive IT support tactics such as monitoring internet activity and equipment, responding to performance alerts from servers and work stations, maintaining security with spam and malware protection, and applying software patches and updates. Apart from satisfying your curiosity about how such things work, there shouldn't be a need to go into detail about these things when you are in the process of evaluating providers.
Proactive IT That Brings Business Value
The word "proactive" means that actions are taking place in anticipation of future problems or needs. Think bigger when you consider just how proactive your IT can be. Contemplate your vision for your company and then challenge IT to meet your future needs. The way that you do this is with IT strategy. In your process of evaluating managed IT service companies, the provider should be asking you about your goals if they are really focused on bringing business value with the IT services they offer.
What Do You Really Want?
For some businesses, it might be a huge step up just to contract with a company who uses proactive technology tools and begin to tackle the day-to-day problems that keep employees from doing their jobs. If you really want to be strategic with your IT, though, you can start to build a reliable technology framework with the future in mind.
This line of thinking will take your IT beyond being just a tool to help staff do their jobs, to a way to enable them to bring more value to your customers. With the wide variety of IT support companies out there wanting your business, you have to ask yourself what you really want to get out of your relationship.
Choosing a Managed IT Service Provider
Download our E-Book to get more help on how to guide the conversations you have with managed IT service providers as you evaluate just what they are offering.