Your organization is already investing in a phone system today that does what you need it to, or maybe it doesn't and you're finding periodic connectivity or login issues. However, many people aren't aware they can replace their phone system by using Microsoft Teams. And if you're already using Microsoft Teams to create workspaces for collaboration, chats, meetings and storing files, why not make your calls from Teams, too?
First, let's discuss why using a disparate system – though it may work – may not be the best solution for you. Phone systems that are disconnected from the technology stack can be clunky in terms of efficiency for your day. It's a different username and password, it's set up on a different platform and it has a different interface and functionality. That said, depending on your business needs, you may still need to include a robust phone system; however, for the average use of calls, Teams provides everything you need with some added benefits.
3 Major Benefits of Using Microsoft Teams as a Phone System
1. Everything You Need is in One Platform
Having your phone calls available in the same place where you set and run meetings and collaborate via chat will provide you with the ease and accessibility of doing all your major communications on one platform. The more you can do in one location, the more efficient you will be. Internally, you can be chatting with a contact and realize the need for a quick call to discuss and hit the call or video button and meet on the spot.
2. Know the Status of Your Contacts Before You Call
In Microsoft Teams, you can see the presence of your contacts before you make that call, saving both you and the recipient time and energy of back-and-forth exchanges. If your contact is busy in a meeting, you'll know to wait until they are available to give them a call. Or, if you have a relevant message for them for the meeting they're in, you might consider chatting with them to not disturb the meeting.

3. Intuitively Integrated Phone System
In many phone systems outside of Microsoft Teams, statuses must be actively set. However, Microsoft Teams knows your status by pulling information from your calendar – whether you're presenting, busy or on Do Not Disturb. When you're in a meeting and a call comes through, Microsoft Teams will not ring to disturb your meeting by default. If you have the Microsoft Teams app installed on your mobile or other devices, calls will ring to the active device allowing you to choose where you'd like to answer.
Read more: Using Microsoft Teams as an Online Meeting Platform
Add Calls to Your Microsoft Teams Toolbar
To pin the Calls feature to your toolbar, open the Calls app in Find Apps. It will appear on your left toolbar. From there you may right-click and "Pin." This will allow you to access your Calls conveniently right in the platform where you're accessing Chat, Calendar and Meetings, Files and Tasks.

Making the Call
Your organization will likely already have internal contacts included on your contacts list based on your Outlook contacts, but you can also add them manually by phone or email. When you're ready to make a dial, you can also simply enter phone numbers into Teams without creating a contact.
Quick Tips from Microsoft:
Speed dial

allows you to quickly reference and call back any recent contacts or contacts that you have added to speed dial

Call groups organize your teammates to help you find or reach certain people based on a role or team

To add someone to speed dial or any call group, select

More actions

next to the group name and choose

Add a contact to this group

You can quickly call any contact back by selecting

Call

below their name
Available Settings
Calls in Microsoft Teams provides the ability to choose if you want calls to ring or be forwarded. You may also set it up so unanswered calls go to voicemail or do nothing. In settings is where you'll configure and record your voicemail. This is where you can choose a ringtone and turn on TTY mode if applicable.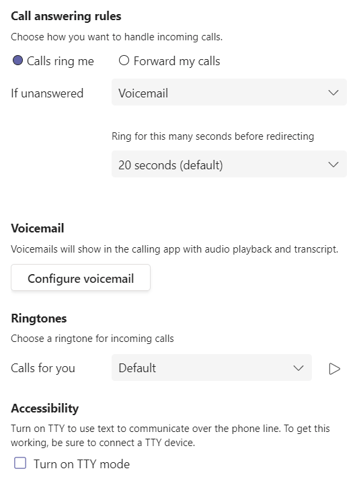 Are You Ready to Replace Your Phone System with Microsoft Teams?
In becoming a modern workplace, using Microsoft Teams as a phone system is one way to maximize productivity and efficiency in your day. Teams is device agnostic, meaning wherever you are you can take the call whether it's on your mobile device or computer – it's all there in one application.