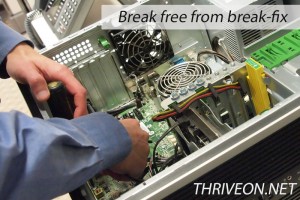 Inadequate Resources Lead to Break/Fix IT
Although they are as technology dependent as big businesses, small businesses often have not allocated resources to Information Technology management. Small-to-medium-sized businesses (SMBs) tend to have a more difficult time managing IT than larger enterprises. This leads to a more reactive "break-fix" approach to their technology that leads to downtime and dings to their cash flow when a break isn't fixable.
It pays to be proactive, not reactive about technology because the cost of downtime can impact the business with lost revenue, lost productivity, and lost reputation when customer needs cannot be fulfilled. Getting to a proactive approach requires a cultural shift from how IT has commonly been handled in the past. Say goodbye to manual, yet necessary, processes and hello to a better way for businesses to meet their technology needs - a smarter and more cost-efficient way.
Follow These Three Steps To Improve IT Management
Be Proactive
More often than not, it's the things that aren't caught early on that turn into costly business disruptions. For instance, many of the hardware, software, and application failures that cause downtime occurrences are preventable; they're just not detected and addressed early enough. Monitoring tools combined with a network operations framework can nip problems in the bud and prompt alerts and resolution before they turn into major issues that disrupt day-to-day operations.
Automate Mundane Tasks
Liberate the internal IT support staff from everyday manual maintenance and monitoring by automating activities such as network and data security. Automation also reduces the possibility for error and is a component of the IT strategy process when data collected is used to plan for future changes and upgrades of equipment and software.
Get More From Your In-House Team
If you have internal IT support, you have likely hired some very skilled and talented people who would be worthy contributors to your company or organization if they weren't always so tied up fixing things and performing monotonous tasks.
Managed IT services companies bring the technology tools and expertise that businesses need to break free from the "break-fix." Whether you have in-house IT staff or not, having a full IT department with managed services will free up your staff to work on the kinds of things that will better serve your customers, employees and suppliers, and contribute to your competitive advantage.
It just takes 30 minutes to learn how Thriveon's 7 Part IT Strategy Plan can turn your IT management situation around so that it powers your business success. Contact us at info@thriveon.net or call 855-767-2571 to schedule a discovery meeting.
Not ready to talk? Get 10 Questions to Ask When Evaluating Managed IT Service Providers with our free E-Book.