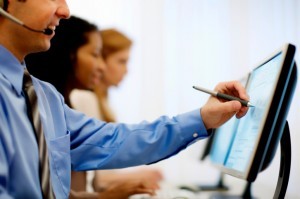 One of the most important (and often overlooked) facets of a successful Information Technology system is strategy. IT strategy allows your organization to predict and prepare for shifts in the IT landscape, and effectively pivoting with changing business requirements and new cybersecurity threats in the process. Moreover, developing a smart, flexible IT strategy makes it possible for your company to identify and invest in the best and most effective IT tools, systems and practices, maximizing productivity while increasing the quality of service and support offered to your customers and employees. The result? Better and more predictable IT that increases employee satisfaction, decreases the total cost to meet customer needs and optimizes IT ROI.
Put simply, devising an effective IT strategy is an excellent way to leverage Information and Technology to do more for your organization and help all of the departments in your business to achieve their goals through outstanding, measurable improvements in productivity and efficiency. However, finding industry professionals with the ability to develop and implement an IT strategy that fosters success for your business can be exceptionally challenging. Regrettably, a vast majority of Minneapolis IT support companies and internal IT teams simply don't have the time, knowledge or expertise needed to provide high-quality IT strategies and consulting. Consequently, the organizations these IT teams serve often fall behind their competitors or shut down completely due to shortsighted IT tactics that don't address core problems and threats.
Thriveon's Unrivaled IT Strategy and Consulting Services
At Thriveon, we work tirelessly with our clients to strategically utilize Information Technology in order to meet and exceed business goals. Over the years, our team of IT professionals has helped hundreds of companies find success and thrive through hassle-free IT management, and we've found that implementation of intelligent, feasible IT strategy plays an essential part in guiding a company's IT activities and investments to ensure that they support key business objectives. In fact, when successfully executed, IT strategy transforms an organization's IT system from a necessary expense into a major contributor to growth that improves business operations and provides substantial value to customers, employees and stakeholders alike.
To give you a better understanding of how a partnership with Thriveon can benefit your organization, let's take a few minutes to walk through our unique approach to IT strategy and consulting.
Step 1: Business Alignment
We begin our IT strategy process by meeting with your company's leaders and executives to gain insight on the specific business goals you aspire toward. This important step ensures that the tactics we use to implement your specialized IT strategy align seamlessly with your organization's objectives. Whether you're interested in improving revenue growth, customer satisfaction, market share or overall IT costs, we believe that it's imperative to pin those goals down at the onset of our relationship to make certain that all of our IT initiatives are focused on meeting them. This step also includes delving into the specific plans that each of your departments will use. Every component of your company (from Human Resources to Marketing) has unique Information Technology needs and challenges that our team will address. By the end of this process, our team will have an intimate understanding of what each department needs to make better decisions about technology.
Step 2: Creating an IT Roadmap
An IT roadmap is a detailed plan that lays out each step your company will take to execute its IT strategy. Of course, its starting point will vary depending on what type of IT system your organization currently has in place. For example, if your business has a very unstable or unreliable IT framework, the initial steps on your IT roadmap will involve identifying opportunities and prioritizing investments that manage and mitigate these problems. Once we've accounted for day-to-day IT frustrations and issues, your roadmap will act as a valuable source of focus and clarity when people or departments in your company request new functionality or services. Thanks to this detailed document, key decision makers in you organization gain access to a perfect resource for determining whether each new proposal or investment fits with your current budget and plans. This system makes your budget for IT significantly more stable and predictable while ensuring that you aren't burned by poor IT investments.
Step 3: Prevent Day-to-Day IT Fires
Believe it or not, great IT support isn't just about quickly responding to day-to-day IT fires and putting them out. Great IT support is about preventing fires in the first place. Let's face it, each fire still disrupts your people and takes them off track. At Thriveon, we believe day-to-day IT fires can be prevented before they start. Wouldn't it be nice to know your IT team is focused on keeping the rest of your staff working disruption free?
Thriveon is incredibly proud to support the growth and success of hundreds of small to mid-sized companies (with 20 to 500 computers) across Minnesota by providing fully customized IT services that pair outstanding Information Technology strategy with high-quality management to increase employee satisfaction and overall IT ROI while reducing technology downtime.